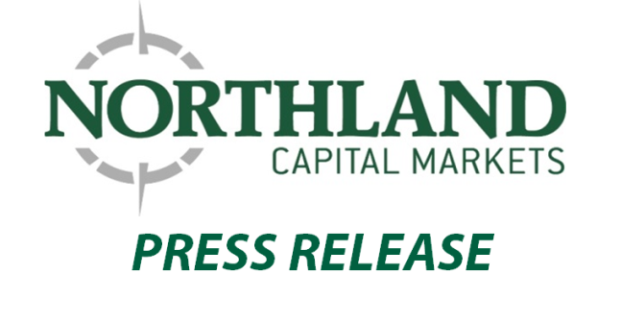 MINNEAPOLIS, July 25, 2017 / — Northland Securities, Inc., a full-service financial services firm based in Minneapolis, announces that Carl Byrnes has joined the firm as Managing Director and Senior Research Analyst with Northland Capital Markets.  In this capacity, Carl will lead Northland's sector coverage of biotechnology stocks, as well as provide coverage for select established and emerging biopharmaceutical companies.
Carl has 27 years of experience in biotechnology research and pharmaceuticals. His previous experience includes equity research roles at RBC Capital Markets, Lehman Brothers, Bank of America Securities, and, most recently, Lake Street Capital Markets.  Carl also served as a senior manager with Pfizer, Inc. and as president and CEO of SCS Refrigerated Services.
Randy Nitzsche, Chief Executive Officer of Northland Securities, commented:  "We are excited to have Carl join the Northland team. Northland is committed to increasing its focus on the healthcare sector, and Carl's in-depth knowledge and experience in the biotechnology and pharmaceutical fields bring a distinct and compelling perspective on this rapidly-changing sector."
"Carl's deep knowledge and understanding of emerging small and mid-cap biotech companies will provide unique insight for our institutional investors and corporate clients", Mike Grondahl, Head of Equity Sales, Trading, and Research.
Carl is a graduate of Washington University in St. Louis, and completed his MBA at Cornell University's Johnson Graduate School of Management.  He holds and maintains the FINRA Series 7, 63, 86, and 87 Registrations.
About Northland Capital Markets
Northland Capital Markets, a division of Northland Securities, Inc., Member FINRA/SIPC, is a full-service investment bank.  Northland provides financing and M&A advisory services to our corporate clients and strong, actionable research-driven ideas for our institutional investors.  Our research group provides its institutional clients in-depth research on leading small- and mid-cap companies in the growth sectors of the economy.  Northland has industry sector expertise in Business and Tech-Enabled Services, Energy, Financials, Healthcare, and Technology.  Northland Capital Markets is the trade name for certain capital markets and investment banking services of Northland Securities, Inc.
Headquartered in Minneapolis, Minnesota, Northland Securities has branch offices in Iowa, California, Colorado, New York, and Wisconsin.
News: https://www.northlandsecurities.com/
SOURCE: Northland Securities, Inc.
Press Release: Carl Byrnes Joins Northland Capital Markets' Research Team (07/25/2017)