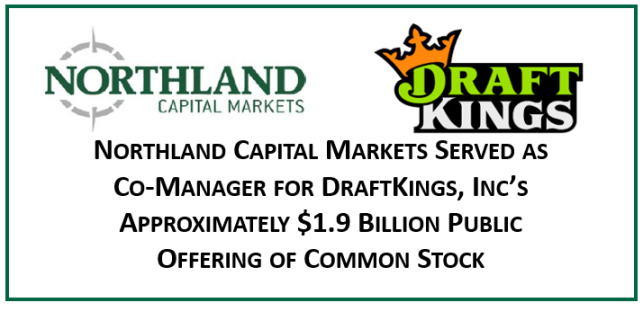 Northland Capital Markets announced today that it has acted as Co-Manager for a public offering of approximately $1.9 billion of common stock for DraftKings, Inc.  DraftKings is a digital sports entertainment and gaming company that provides users with daily fantasy sports, sports betting, and iGaming opportunities. The Company is also involved in the design and development of sports betting and casino gaming platform software for online retail sportsbook and casino gaming products.
DraftKings priced the sale of 36,800,000 shares of its common stock to the public at $52.00 per share for gross proceeds of approximately $1.9 billion, which includes the exercised over-allotment option of 4,800,000 common shares.
DraftKings intends to use the net proceeds it receives from the offering for general corporate purposes.
For more information: Press Release – DraftKings, Inc.'s $1.9 Billion Public Offering of Common Stock  10/12/2020