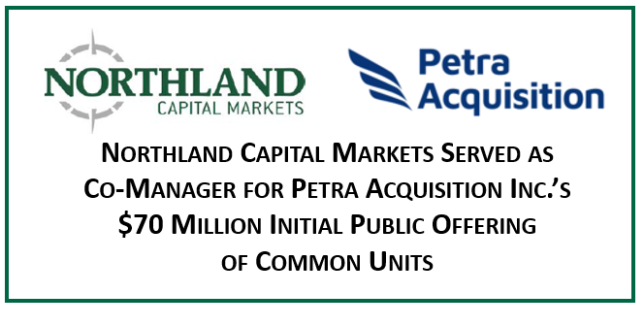 Northland Capital Markets announced today that it has acted as Co-Manager for an initial public offering of $70 million of common units for Petra Acquisition, Inc.  Petra Acquisition is a newly organized blank check company incorporated for the purpose of effecting a business combination with one or more businesses. The Company intends to focus on target businesses in the healthcare or healthcare-related industry.
Petra Acquisition priced the sale of 7,000,000 units to the public at $10.00 per unit for gross proceeds of $70 million, not including 1,050,000 units from the over-allotment option exercisable by the underwriters for 45 days.
Petra Acquisition intends to use the net proceeds it receives from the offering to effect a business combination.
For more information: Press Release – Northland Capital Markets Served as Co-Manager for Petra Acquisition Inc.'s $70 Million Initial Public Offering of Common Units  10/12/2020