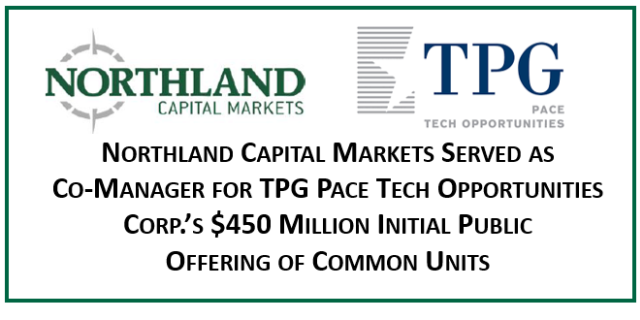 Northland Capital Markets announced today that it has acted as Co-Manager for an initial public offering of $450 million of common units for TPG Pace Tech Opportunities Corp.  TPG Pace Tech Opportunities is a newly organized blank check company incorporated for the purpose of effecting a business combination with one or more businesses. The Company intends to focus on industries that complement the sponsor's and management team's background in technology and related areas.
TPG Pace Tech Opportunities priced the sale of 45,000,000 units to the public at $10.00 per unit for gross proceeds of $450 million, not including 6,750,000 units from the over-allotment option exercisable by the underwriters for 45 days.
TPG Pace Tech Opportunities intends to use the net proceeds it receives from the offering to effect a business combination.
For more information:  Press Release – Northland Capital Markets Served as Co-Manager for TPG Pace Tech Opportunities Corp.'s $450 Million Initial Public Offering of Common Units  10/12/20